What our customers say…
About Michele's hoof care work:

"I have used Michele Stuurman as the hoof care professional for my horses since 2010. And I am very satisfied.
She is great at explaining what she does, and to answer whatever question you might have.
And she does a great job in adapting her hoof trim to the way the horse is used, and the wishes of the horse owner.
I didn't have much knowledge about hooves and barefoot horses before I started using Michele for my horses. But I continue to learn new things from her. And I feel safe, because I know she always does a good job.
She has a lot of knowledge about horses in general. And she is very good at explaining how the horse's body and its hooves influence each other.
Michele is also very patient with horses when they are making her work difficult for her. And she will take the time necessary to do the job.
Our horses are always happy when Michele has been here!"
Monica Værnes, Enebakk, Norway
---
"Michele is a very knowledgeable hoof care specialist. She knows a lot about horses and horse keeping.
Which, of course, is an absolute necessity to get the best results: healthy and functional hooves and horses. Regardless of anatomy, age, use, illnes, challenges, environment, climate and so on.
She does a thorough job, is easy to get hold of and very good at explaining everything to do with horses."
Ingrid Njøs, Norway
---
"My impression of Michele Stuurman is that she looks much more at the whole horse and is not just focused on what happens below the fetlock.
Most of the other barefoot trimmers I have met have also spoken about the anatomy of the hoof and the importance of natural living conditions, but not so thorough. And nobody else has given me so much information about the horse's anatomy. And how hooves influence that.
Since then I have also been to one of her barefoot seminars. Which has given me a much better insight into why it was the right decision to take the shoes off. But also into how important the right living conditions are if you want to have your horses barefoot."
Thor Ole Fongaard,  Norway
---
"You are professional and precise in your work. Thoughtful and kind towards both animals and humans. And my horse appreciates you a lot!"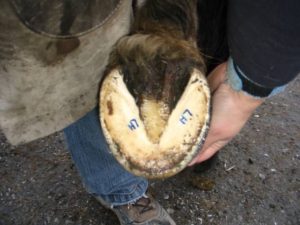 Stine Helen Egeland, Norway
---
"Michele has been my hoofcare mentor in 2007. She is thorough and conscientious. My 19 year old Arabian mare used to have trouble with her shoulder, this became much better after only a few trimming sessions. Michele is the first 'horse-therapist' I have met who has seen a connection between the heel height and the shoulder. Strangely enough since it now seems perfectly logical. Michele, thank you for your patience, your kindness and your ability to see the whole horse."
Anne Holter, Norway