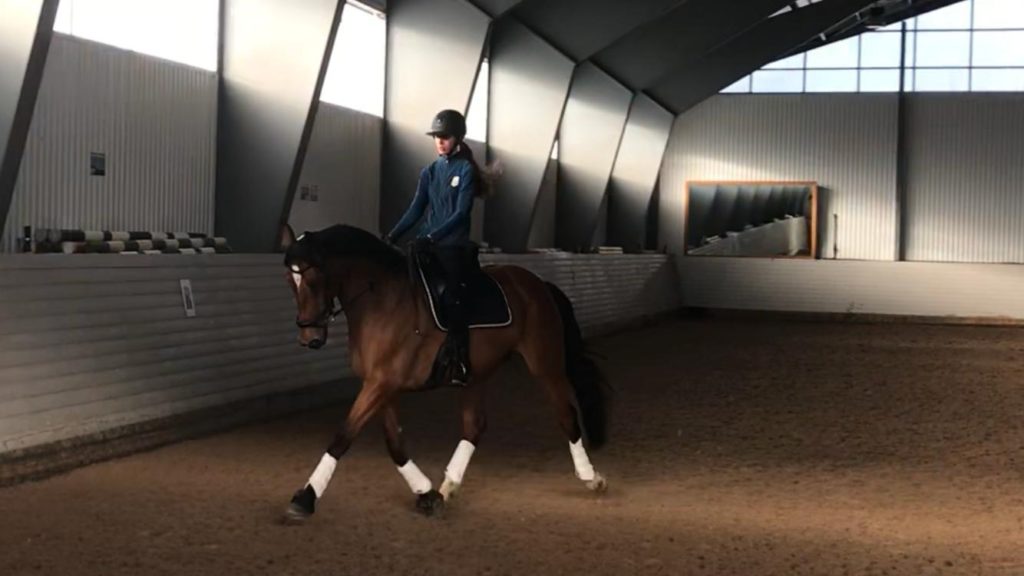 What our customers say…
About Michele's riding and training:
"I have known Michele since 2008, when I started taking lessons with her. And I have had regular riding lessons since then.
Michele has a fantastic understanding of the movement patterns of both rider and horse, and a unique ability to make horse and rider work together.
She explains things in a way that makes it easy to understand; she is clear, precise and enthusiastic.
Michele adapts her lessons to each rider and horse. And she has a sincere interest in her students, both the humans and the horses!
It's always a joy when she rides your horse for you – the horse suddenly not only behaves better, but also moves better!
Michele has improved my riding technique and understanding 100%. I will continue to take lessons with her for as long as possible."
Sidsel Mjøs, Drøbak, Norway
---
"If I had the money, I would ask Michele to ride my horses every time before I get on them!
Whenever she does, it teaches my horses how to carry themselves and use their bodies correctly – before I get on and try to do the same.
I have known her since 2008. And ever since then, Michele has been the most important 'go-to' person for whatever question I might have. Regarding riding, training, planning for horse shows, concerns about soundness, and any kind of question regarding equestrian sport in general.
Understanding riding has been a real journey for me. The biomechanics of it, and how to keep horses sound, strong and healthy. There is no 'quick fix' – only correct riding and training will give good results in the long run.
Michele is an excellent instructor who works with all of this. On top of that she is very patient.
She teaches the classical art of riding in a way that's easy to understand. Getting both horse and rider relaxed, and focused on the correct way of moving that strengthens the horse.
Michele is extremely competent. She is able to quickly analyze the difficulties that both horse and rider have. And she really understands the causes behind that – the 'why'.
This makes her teaching very valuable.
It doesn't matter if you are doing dressage, showjumping, eventing or something else – the basic requirements to keep your horse sound and supple are the same.
My two horses are completely different. And they have different body issues. Michele helps me with these issues. And she makes sure that I work my horses in the correct way for their bodies, their balance and their mindset.
I highly recommend Michele to anyone who rides, on any level."
Sylvia Maria Sørensen, Vinterbro, Norway
---
"Regardless of which type of equestrian sport you do – it is always a prerequisite that the horse is ridden correctly. Of course it has to do the exercises correctly – but it also has to carry itself correctly. And it should work as biomechanically correct as it possibly can.
In that way you create a good basis for an injury-free horse, which lives longer and performs better. A good 'dialogue' between horse and rider is essential to achieve this.
We have been lucky enough to benefit from Michele's knowledge since 2016. And we have seen a very positive development in both horse and rider.
Michele has a seldom combination of a very good knowledge of the horse's anatomy, of biomechanics, and of exercises that develop the horse. In addition to great technical riding knowledge, good teaching skills, and a real passion.
If you want to ride for her, you have to be open to new knowledge. You have to understand that it takes time to create a strong partnership – both for the horse and the rider. And both physically and mentally. But you will see the rewards in your riding – and in your horse!
It has been great to see how our horse has developed with her teaching. It's fun to ride for Michele, too. We do a variety of exercises and she explains the 'why' behind those.
Also we create our training plan together, which makes the riding pay off even more.
We really strongly recommend using her as a trainer if you have the possibility!"
Morten Nesbakken & Alba Neuman, Drøbak, Norway
---
"Michele and I met more than 30 years ago (!) at our local riding school in The Netherlands. She was the riding instructor of our group.
Later on when I bought my first horse she continued to be my riding instructor, and she still is, even after she moved to Norway and I moved to Sweden.
In 2004 the son of her mare Billy came to Sweden and since then I have had the pleasure of taking care of this very special, kind and sensible horse, named Serendipity (Senne).
Michele is a person who is very thorough in her way of working. She has an endless interest in, and knowledge of all things horse-related.
It's hard to find people who are so enthusiastic and dedicated!"
Cinnamon Kelleners, Sävedalen, Sweden
---
"My experience is that Michele's main strengths as a riding teacher are her deep understanding of and respect for both the horse and the rider. She is extremely good in observing and perceiving what the horse and rider need at any given moment, and to communicate the changes that should be made (and the reasons why).
Michele is also concerned about safety in all situations. In my opinion riding is an activity that should provide a mental and physical education, as well as being a pleasure. Michele is a riding teacher who makes this come true."
Elisabeth Sørdal, Oslo, Norway